Celebrating Growth and Progress: A Rundown of SSDN's Federal Funding Programs
We are excited to continue strengthening our capacity to support for local communities in accessing federal resources! Two years ago, SSDN launched the Southeast Sustainable Recovery Center (SSRC), a member-focused support program for local governments with the goal of increasing access to federal funding and resources to advance sustainability and equity.  Building on SSDN's peer-to-peer networking model, this program focused on identifying upcoming federal funding opportunities and sharing local government experiences and insight into accessing those federal assistance opportunities.The past two years have brought tremendous growth and a recognition that deeper assistance and support is necessary to advance local sustainability and equity efforts in the Southeast. SSDN is fortunate to share with two new efforts to help communities across the Southeast - regardless of membership - meet the moment and access the unprecedented federal funding from the Bipartisan Infrastructure Law and Inflation Reduction Act. 
SSDN Local Infrastructure Hub: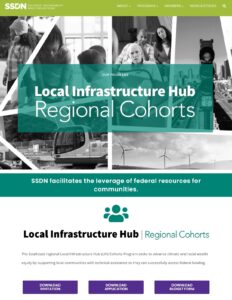 Officially launched earlier this month, the Local Infrastructure Hub (LIH) Regional Cohorts program provides direct support and technical assistance (TA) to local governments and their partners to access federal funding available through the Infrastructure Investment and Jobs Act (IIJA) and the Inflation Reduction Act (IRA) to advance equitable climate projects and initiatives. SSDN is leading this program for the Southeast US (AL, AR, FL, GA, LA, MS, NC, SC, TN, TX, and VA) and is working closely with partner organization, Elevate Energy, who is leading the effort in the Midwest. 
To direct this program, SSDN is fortunate to have brought on Nick Deffley, former Sustainability Director for the City of Savannah, GA. Nick's experience in working with communities to access federal funding and support equitable climate initiatives will provide valuable insight in helping communities formulate actionable strategies and programs to access federal funding. Nick and our Technical Assistance Bench of local, regional, and national organizations to help communities design equitable, competitive, and successful projects appropriate for the Southeast.
Local governments (members and non-members) within our network area, as well as those in Texas, are invited to attend an informational webinar detailing the program's goals and stipulations on Monday, September 11 (1:30-3:00 pm ET/12:30-2:00 pm CT). Click here to register today!
This event will be held with special guests Chris Castro (Chief of Staff, Office of State and Community Energy Programs (SCEP) at DOE) and Mandy Mahoney (Director, Building Technologies Office at DOE). Learn more and access the LIH application on our website here! Please reach out to Nick (nick@southeastsdn.org) with questions about the program and the event.


SSDN Environmental Finance Center:
SSDN is also proud to announce our new role as a Multimedia Environmental Finance Center for EPA Region 4. EPA's Environmental Finance Center (EFC) program is designed to bridge the access gap between federal funding and the communities who need it most. As a new Multimedia EFC for EPA Region 4, SSDN looks to build on the successes of longstanding EFC programs in the region and provide complementary services and technical assistance to communities informed by our longstanding work and insight from communities in the Southeast leading on equity and sustainability initiatives.
As a Multimedia EFC for EPA Region 4 (AL, FL, GA, KY, MS, NC, SC, TN), one of our primary objectives will be to provide technical assistance to communities seeking federal funding through the State Revolving Funds (SRF programs), namely both the Clean Water State Revolving Fund (CWSRF) and Drinking Water State Revolving Fund (DWSRF). To this end, we anticipate key areas of focus around:
Focus on Underserved Communities:

The 2021 Bipartisan Infrastructure Law (BIL) increased the SRF programs with an additional $50 billion for water infrastructure.  SSDN hopes to support efforts to implement the Biden-Harris Administration's Justice40 Initiative through maximizing the benefits for rural, underserved, or disadvantaged communities who may not have been able to secure such funding previously.  

Centering People & Building Partnerships:

SSDN's Multimedia EFC will strive to ensure the communities and people impacted will always remain central to the federal funding application process. Recognizing the longstanding environmental justice conditions in the Southeast, SSDN's Multimedia EFC looks to cultivate partnerships with other organizations engaged in similar work to identify opportunities for collaboration.

Leveraging Data to Advance Equity:

In an effort to provide transparency and promote more equitable outcomes in the federal funding application process, SSDN's EFC will continue building a digital resource library

.

These resources, available on our website, include the draft interactive ArcGIS Online web application of

Justice40

indices. 
SSDN is fortunate to be joined by Chris Barber in his official capacity as EFC Coordinator after having supported our team since 2022 by working to increase awareness and understanding on the nuances of the Administration's Justice40 initiative. Communities interested in learning more about this support can reach out to him at chris@southeastsdn.org; visit SSDN's Multimedia EFC website here, or contact EPA to request Water Technical Assistance here.
SSDN is excited to have launched both of these new programs to complement and build off of the longstanding support for local government members via the Southeast Sustainable Recovery Center. SSDN will continue to raise awareness of key upcoming federal funding opportunities such as these three opportunities anticipated to be released in September:
EPA's Community Change Grant:

A new $2B from the Inflation Reduction Act focused on supporting community-based organizations and local governments tackle Environmental Justice conditions. 

EPA Climate Pollution Reduction Implementation Grant:

A new $4B grant for state, tribal, and local governments to invest in priority projects that reduce greenhouse gas emissions and provide benefits to underserved communities. 

HUD Pathways to Removing Obstacles to Housing

: A new $85M opportunity to support communities in  taking steps to remove barriers to affordable housing.
In addition to the  Local Infrastructure Hub webinar on September 11th, you can also join SSDN at the September 13th America's All In event in Orlando, FL (Register). For more information on SSDN's Federal Programs, or to join the federal funding listserv to learn more about federal opportunities, please visit our website here.