PROFILE: Nick Deffley, Sustainability Officer, Savannah, GA
---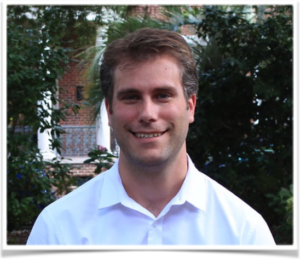 Nick Deffley
Sustainability Officer
Savannah, GA
Despite growing up and going to school in the Midwest at the University of Minnesota, Savannah has always felt like a home away from home for Nick Deffley. Much of Nick's family relocated to Savannah over the years and Nick even lived in Savannah for short period of time in the late 1990s. In 2012, after the birth of their son and over ten years in Minnesota, Nick and his wife felt a calling to be closer to family and made the move to Savannah for good.
Nick came to the City of Savannah in 2014. His academic background in public policy and environmental studies served to be a perfect fit for his position, which was new to the City. The office of environmental services and sustainability was initiated by the city manager to bring sustainability into all aspects of city planning. Nick's charge – to carve out a space for sustainability within city government – allowed him the opportunity to make an impact in a new way, and to have flexibility in the way this impact happened.
To Nick, sustainability is about thinking creatively about transportation, water, open space, urban development, and also bringing equity into these efforts. His first full-time job in Savannah was working with a poverty reduction nonprofit where he focused on workforce development with populations who have low entry opportunities to jobs. He worked in this capacity for a year and a half, and this work significantly influenced the way that he focused his approach on sustainability.
Recent projects:
City of Savannah's Sustainability Plan – Savannah was one of the first cities to sign on to the Compact of Mayors and my office is working diligently on a sustainability plan for the City as part of this effort. This will be the road map for the whole city for sustainability efforts. It will include a full inventory of policy efforts city already has that can support sustainability and will highlight where there are gaps and opportunities to integrate sustainability efforts.
Truman Linear Park Trail – this is Savannah's newest effort around active transportation trails, and my department is focused on the development of a 6 mile trail. It's my hope that this can be the beginning of a larger greenway and blue way network throughout the city.
Brownfields & Urban Development – My office is exploring urban development opportunities in a blighted corridor that include working with the EPA to build a brownfield program that could help build opportunity.
Public Recycling – Savannah does not have any public recycling, so my office completed a pilot project last year where they placed curbside recycling bins next to trash bins on River Street for nine months.
What's new?
His program is growing and so is his team. Ashley Helmholdt came on board at the end of September 2015 and she brings a background in food systems, environmental outreach and understanding the impact sustainability has on building healthy communities. As the coordinator, she's providing support around regulatory compliance, grant writing and sustainability planning.