PROFILE: Mary Pat Baldauf, Sustainability Manager, Columbia, SC
---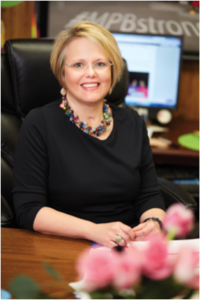 Mary Pat Baldauf
Sustainability Manager
Columbia, SC
Mary Pat Baldauf has always take on life's surprises and challenges with a positive outlook and dedication to overcome them. From a young age, she moved around with her family all around the southeast. At the young age of 5, she challenged herself to "clean up" the town where her family lived at the time. She remarked to her mother that someone needed to take on the responsibility of making such an improvement and her mom empowered her to clean things up… This may have been her first entree into the sustainability "movement."
She eventually found that this challenge was bigger than cleaning up the places we live, and yet again took it on. In 2008 she accepted the position charged with championing sustainability for the City of Columbia. Since then, she's worked tirelessly to bring sustainable programs to life and to make sure the public and stakeholders are engaged with these important issues. With a background in communications and public relations, she counts among her successes the fact that she has won over key constituents and key community leaders in Columbia around the issues of climate change.
In early 2015, Mary Pat overcame yet another challenge when she suffered and survived a brain aneurysm. Her miraculous recovery allowed her to return to her job later that year, with an personal charge to get back to work and be "better than I was before." This truly inspirational story has already allowed her to make huge strides toward change in her community.
She applied for and was accepted into the STAR Communities/Siemens "Quick Star(t) program. The program starts in spring 2017 and lasts a year. Columbia will have access to a year's subscription to STAR tools and services and technical assistance and a workshop with staff and partners. She's looking forward to doing data collection workshops and doing some presentations to get more buy-in, and re-engagement. This program will help move their application along and help her achieve the process sooner, so she can move forward into implementing sooner. It will also be a refresher for her department and allow her office to get back into the community, spreading the sustainability message, once again.
What are you most proud of?
"I'm proud of the people I've won over. It's all still controversial in South Carolina, and people often say they don't believe in climate change. But I've been able to speak to groups and handle the people that want to fight over it."