PROFILE: Emily Barrett, Sustainability Officer, Cary, NC
---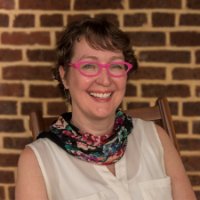 Emily Barrett
Sustainability Officer
Cary, NC
Emily Barrett of Cary, NC is big on collaboration and sharing to advance southeast sustainability. She knows how to network and is part of the SSDN communications team. She is full of words, energy, and life, though she says she's an introvert.
Emily has a biology undergrad, and an M.S. in Environmental Science and Engineering from UNC Chapel Hill, where she gravitated towards classes that taught systems thinking. She ended up in Texas working at the State helping small businesses and local governments to prevent pollution and to comply with environmental regulations, and later doing regulatory development, and then air quality work of the Houston area. She consulted on sustainability and compliance for a bit, but knew two things: she wanted to raise her kids in North Carolina, and she wanted to be a city sustainability director.
Why SSDN?
I called Maggie Ullman and introduced myself. Maggie gave me Tobin Freid's information. Tobin told me about an opening at the City Town of Cary, NC. When I got that job, I found a standing appointment on my calendar called "sustainability therapy", where I could regularly talk to my NC peers. I love the profession, and am thankful to be working every day on things that matter.
What have you been working on?
LED streetlights: Have invested $200,000 in annual sayings (payback period of just over a year)
Strategic Energy Plan: This plan outlines a path forward for the Town of Cary to reduce operational energy use in all categories, including fleet,, and includes an energy reduction goal with an associated energy management plan. The plan anticipates a $1.5 million yearly savings.
Chief's Energy Challenge: Cary started a national challenge for municipal fire stations: a city commits to a 10% energy reduction y the first year and 20% by the third years. So far, 106 fire stations from 18 cities have signed up.
Key Challenges?
Emily notes that sustainability is essential, as it is the 21st century pathway to good governance and decision-making, but it can still be viewed as "nice to have" instead of a core function by those who are unfamiliar with the benefits of an integrated systems-based approach. She has recently been placed in the Transportation and Facilities Department, where she has enjoyed being part of a very large department with a larger overall budget than her previous location on Administration. While her role is still multi-departmental and townwide she will continue to have to reinforce that message as those in her organization adjust to their new structure.