A Green Lining to New Orleans Storm Clouds: How a new nonprofit coalition is teaching neighbors how they can create solutions for flooding in their community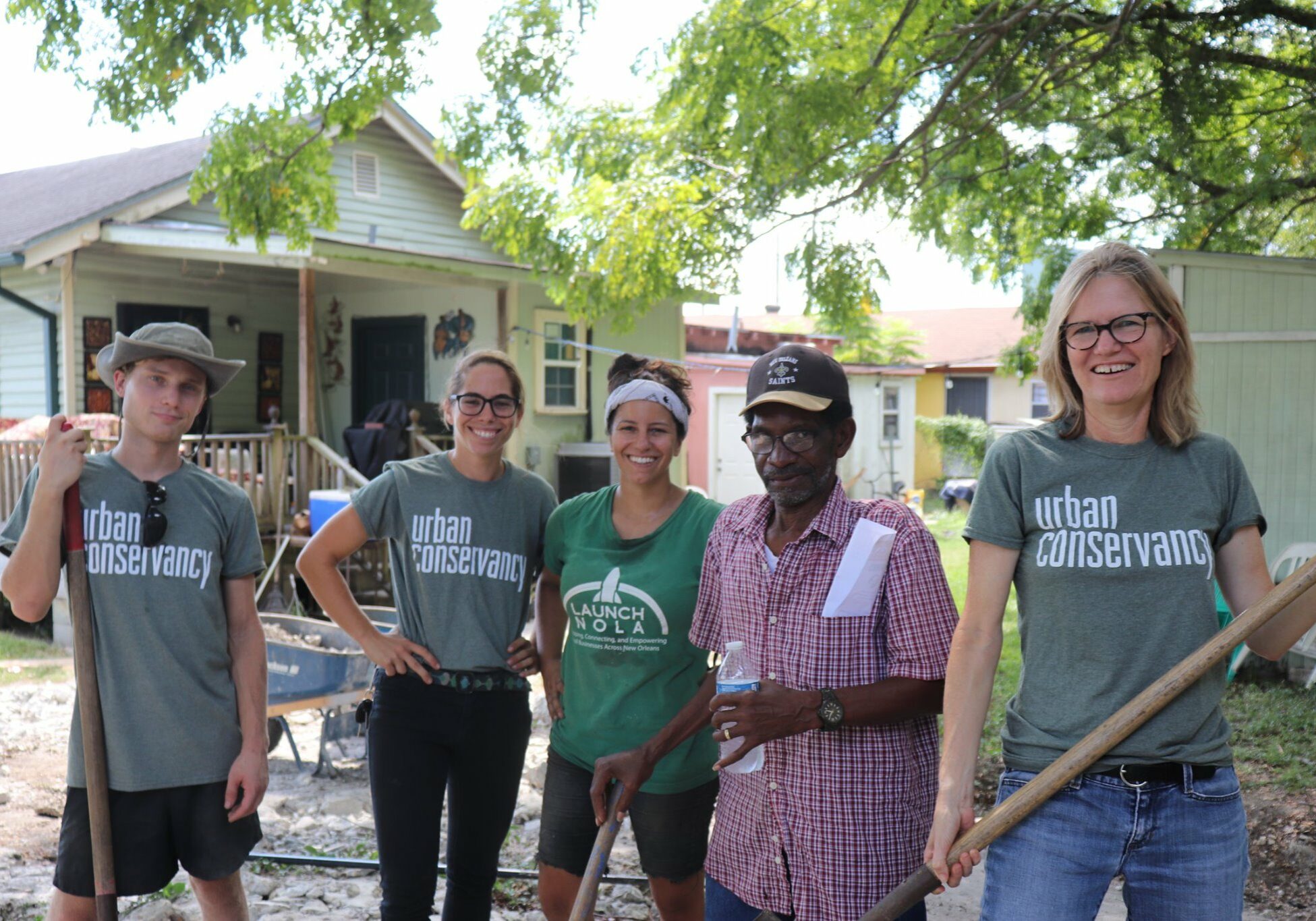 Everyone who lives in New Orleans knows the Big Easy is susceptible to flooding—very susceptible. According to the National Oceanic and Atmospheric Association (NOAA), the city is one of the wettest in the country with an average of 62 inches of rain per year. Moreover, its drainage system is over 100 years old, and was built when the city was less developed and less covered with concrete. 
The fact is that the city's infrastructure must be better equipped for the future. Already, the intensity and frequency of storms in the past 100 years have seriously increased. Because global warming will result in serious rises in both sea level and hurricane activity, the City of New Orleans' Office of Resilience and Sustainability, along with a new coalition of nonprofit partners called Umbrella, are developing innovative strategies to alleviate flooding and put community safety and well-being first. By testing strategies in Hoffman Triangle, they hope that their new models can be scaled to other neighborhoods, and ultimately contribute to increased resilience across the city.
The Urban Conservancy and Thrive New Orleans (Thrive), along with Green Light New Orleans, form the coalition called Umbrella. A fourth nonprofit called Sustaining Our Urban Landscape (SOUL) is a key collaborator as well. Each nonprofit in the coalition offers a different service aimed at reducing the effects of climate change in New Orleans. The Urban Conservancy, the lead organization, focuses on paving removal while Thrive focuses on workforce and business development. Green Light offers rain barrel installations and SOUL plants native trees. These partners are working with the City of New Orleans to create community-led green stormwater solutions. The solutions, such as green infrastructure, porous pavement, rain catchment systems, and rain gardens, will better manage water in lieu of traditional pipe and gutter systems. The effects of these interventions are immediate, as green infrastructure soaks up and stores rainwater rather than allowing it to overwhelm drainage systems.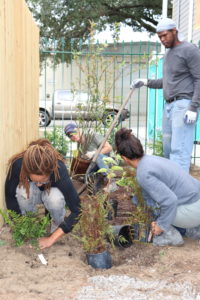 Umbrella's work in Hoffman Triangle complements City-led green infrastructure initiatives on non-residential lots throughout the city. For example, New Orleans' City Council recently approved an ordinance requiring that all new commercial parking areas be porous. But reducing flooding and pooling on individual properties can also alleviate flooding for the surrounding blocks. 
Umbrella also works in alignment with the city's "Climate Action For a Resilient New Orleans: 50% by 2030." This plan is a comprehensive, first-of-its-kind strategy focused on curbing New Orleans' contribution to climate change. The goal is to reduce the city's annual greenhouse gas pollution by 50 percent by 2030. Camille Pollan, Program Manager of the New Orleans Office of Resilience and Sustainability and liaison with Umbrella, helps oversee the implementation of its four parts: modernizing energy use, improving transportation options, waste reduction and creating awareness and action within the local culture. 
Dana Eness, Executive Director of the Urban Conservancy, and Chuck Morse, Executive Director of Thrive, are at the forefront of the multi-part outreach program that installs green infrastructure on private properties to reduce stormwater runoff and flooding. The installations were prioritized in Hoffman Triangle, a neighborhood located just north of Central City, due to its low elevation (even by New Orleans standards) and vulnerability to flood loss. The area is also a low-income neighborhood where many residents cannot afford major interventions to offset the effects of rainwater. Through Umbrella's program, homeowners in Hoffman Triangle can opt to increase permeability on their lots by removing paving and by installing permeable paver walkways, garden plots,and trees. The program also helps residents install gutters, downspouts, and rain barrels on their homes. 
In addition, underserved business owners in the landscaping industry can become certified in green infrastructure retrofitting techniques through a training offered by Thrive's stormwater management program Launch NOLA ("New Orleans") Green. Trainees learn how green infrastructure protects an area against flood loss by mimicking natural water cycles. Then, they get the opportunity to implement the techniques through Umbrella's various installation projects in Hoffman Triangle. Graduates leave the program with diversified skills and as stewards of sustainable development.
Developing Leadership in Hoffman Triangle
In early 2019, Umbrella partners kicked off the project by knocking on doors in Hoffman Triangle. Eness talks about this first phase of the project as a "pivotal" time because it brought members of the Hoffman Triangle community into the project. Through talking with people and conducting multiple surveys, they learned that over 40% of residents make less than $30,000 per year and nearly 60% are renters. They also learned that the majority of community members are unable or unwilling to be financially responsible for retrofitting their properties with green infrastructure or rain barrels. What's more, a closer examination of homes showed several barriers to effective water catchment: rusted gutters and downspouts, leaking air conditioning units, and rotting foundations. This outreach and surveying proved to be critical to the course of Eness' and Morse's plan of action. It became clear that involving the community to understand the scope of the issue was not only helpful, but essential to their mission.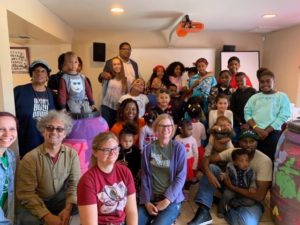 They made a plan for deeper engagement and, in addition to going door-to-door, Morse put to work his anchored position in the community as longtime Associate Minister of Pleasant Zion Baptist Missionary Church to engage additional neighbors. The church is now a meeting place for the project's ongoing affairs, and it serves as a trusted resource for both renters and property owners seeking information about green infrastructure. Morse's religious faith and experience as a minister naturally incorporates a spiritual undertone into the project, now unofficially subtitled, "United by Water." Morse emphasizes that water unites people in New Orleans from various backgrounds and faiths in a single mission. "We are uniting a community," he states, "And others are coming to us because they are trying to figure out how they can become better stewards of what God has given them." 
Long Lasting Advantages of Implementing Green Infrastructure 
Already, the long lasting effects of green infrastructure in Hoffman Triangle are noticeable. By January 1, 2020, Umbrella had planted 125 trees on 67 lots, installed 16 rain barrels, and replaced over 1300 square feet of pavement with permeable pavers and garden spaces. This effort alone prevents 30,000 gallons of water per hour from entering the drainage system. As the trees grow and mature, the amount of water retained in the ground will increase.  Additionally, Launch NOLA Green's Business Academy contributes toward the city's goal of promoting sustainable business practices and jobs. The newly certified trainees are added to the Front Yard Initiative (FYI) Green Sector Directory, a database of local green infrastructure professionals managed by Urban Conservancy. Anyone looking for green infrastructure services can refer to the database to find trusted and knowledgeable business owners in this industry. 
The project's results are logistically important for the city but also enjoyable for the community. Leo, or "Coach" as everyone in the neighborhood calls him, is a homeowner on the 2800 block of South Johnson Street. Coach received the first installation of gutters, downspouts, rain barrels, and permeable paving. Along with solving his property's run-off and pooling issues, he also talks about the improved quality of life that the updates bring him. Coach can now sit in the shade in his yard and friends can join him without mosquitos, hot pavement, and blazing sun making it unbearable. Coach is now an ambassador for the Front Yard Initiative and helps identify other homeowners who might benefit from receiving similar updates on their homes. This is exactly what Morse has in mind when he emphasizes what it means to be a good steward of the neighborhood.
Sustainability Tactics Amid the Pandemic
Umbrella continues to work hard identifying green infrastructure opportunities in Hoffman Triangle After nearly two years of implementing sustainability measures and caring for their neighborhood, Umbrella and Hoffman Triangle neighbors are witnessing reciprocal caretaking. They hope it will reach other New Orleans neighborhoods and unify an even greater community. Morse and his partners currently offer stormwater management advice and counseling to businesses and churches throughout New Orleans, some of whom have not been able to open their doors since Hurricane Katrina. "I don't know if anybody forecast that," said Morse referring to the level of unification. 
Although the COVID-19 pandemic is bringing new challenges to New Orleans, the sustainability measures that were set into motion through this project have allowed Hoffman Triangle to be more cohesive, prepared, and resilient. For example, Umbrella has been able to use the communication system they established with neighbors to share key information about food banks, Small Business Administration (SBA) loans, rental assistance, and unemployment benefits during the COVID-19 crisis. Umbrella is able to directly text an extensive list of area residents, church contacts, business owners and other organizations with critical information in real time, helping community members quickly meet immediate needs. 
Although the pandemic has paused some of the project, not all of it is at a standstill. For example, Green Light New Orleans is still planting seedlings in new garden plots and installing rain barrels, and Launch NOLA Green is moving to online training to accommodate social distancing measures. "The through-thread in all of this," Eness states, "Is to keep the residents of the Hoffman Triangle safe, healthy, and informed." It is apparent that sustainability tactics can sustain through a spectrum of challenges, from economic to climate to public health. Eness concludes, "If anything, COVID-19 has underscored the importance of organizations like ours continuing to do the work we do." 
The work of this partnership is funded by the Southeast Sustainable Communities Fund (SSCF), a partnership between Southeast Sustainability Directors Network (SSDN), The Kendeda Fund and The Kresge Foundation. The SSCF funds local government and grassroots partnerships in the Southeast that equitably address water and/or energy challenges in their communities. For more information about SSDN visit www.southeastsdn.org. 
This story was written by Daria Uporsky on behalf of the Southeast Sustainability Directors Network.