The Southeast Sustainable Communities Fund (SSCF) Awards Five New Sustainability Grants in the Southeast

Grantees in 2019 include: Clarkston, Georgia; Durham, North Carolina; Fulton County, Georgia; Memphis, Tennessee; and Miami, Florida.
Contact:
Meg Jamison
Southeast Sustainability Directors Network
Executive Director
meg@southeastsdn.org
www.southeastsdn.org
@theSSDN on Twitter and Instagram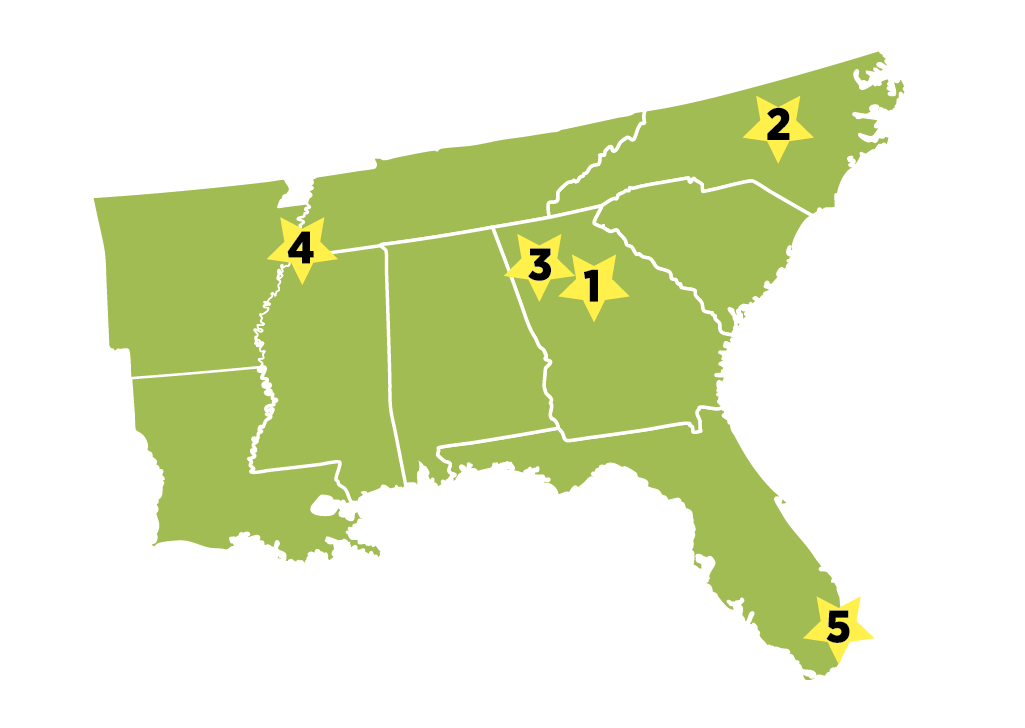 The Southeast Sustainable Communities Fund (SSCF) is pleased to announce that it will invest $1,500,000 to support five sustainability projects in the Southeast. Projects are focused on creating innovative, equitable and scalable solutions to climate change, related specifically to water and/or energy. Implemented through local government and community partnerships, these two year projects will kick off in January 2020 and wrap up by the end of 2021.
The SSCF is a partnership between The Kendeda Fund and the Southeast Sustainability Directors Network (SSDN), a network of sustainability officials representing more than 50 local governments in the Southeastern U.S., with the mission to build capacity for community sustainability in the region. The purpose of the SSCF is to accelerate the adoption of sustainable best practices in Southeast communities by funding projects that implement local sustainability solutions. The SSCF funds projects that support sustainable and equitable communities working in the following six areas:
Mitigating and/ or adapting to climate change through sustainable energy and/or water initiatives
Fostering equity and inclusiveness
Leveraging community partnerships
Strengthening local government policy
Demonstrating scalable solutions
Demonstrating innovation
---
SSCF Round 3 Grantee Summaries
---
Clarkston, Georgia
Investment: $300,000
Project Title: Empower Clarkston
Partners: City of Clarkston, Friends of Refugees, Southface Institute, Lifecycle Building Center
Project Overview: Empower Clarkston will create green jobs and a skilled workforce among the city's diverse refugee population, while also providing energy and water efficiency retrofits in low-income housing. The project will also pair SSCF funds with the city's Affordable Housing Trust fund to extend the project's impact. Empower Clarkston will combine a sweat-equity model with workforce development, with the goal of placement of 80% of those who complete training into good jobs within 90 days of project completion. The ultimate goal will be to expand the program beyond the pilot stage and serve as a model for training refugee populations with green job skills, while also reducing energy burdens of vulnerable neighbors.
---
Durham, North Carolina
Investment: $300,000
Project Title: Building Neighborhood Resilience in the Ellerbe Creek Watershed
Partners: City of Durham, Durham County Soil & Water Conservation District, Durham County Public Schools, NC Cooperative Extension Services, The Conservation Fund, Rebuilding Together of the Triangle, Ellerbe Creek Watershed Association
Project Overview: This project focuses on increasing community resilience to climate change in Durham's Ellerbe Creek Watershed. Project partners will work in neighborhoods to improve stream health, expand tree canopies, and lower energy and water utility costs for residents, incorporating an innovative green jobs training program. The project brings together government and nonprofit partners to develop replicable solutions to increase the comfort, health, and quality of life for the watershed's most vulnerable residents while building community capacity.
---
Fulton County, Georgia
Investment: $300,000
Project Title: Community Resilience Hubs
Partners: Fulton County, Southface Institute
Project Overview: This project will improve the resilience and adaptive capacity to climate change of low-income communities and communities of color in Fulton County using a new model called a Community Resilience Hub. These Hubs are often hosted at a community-centered library or health center. Fulton County, Southface, and local community-based organizations will engage community members to identify needs in the face of major climate events, establish a Community Resilience Hub for use before, during and after these events, and exchange with community about strategies for resilience in their homes and neighborhoods. The Hub will employ technologies like solar, battery storage and rainwater harvesting to ensure that residents have the resources they need to recover.
---
Memphis, Tennessee
Investment: $300,000
Project Title: Increasing Capacity to Serve Low-Income Households through Energy Efficiency Training and Workforce Development
Partners: City of Memphis Division of Housing and Community Development, City of Memphis Office of Business Diversity and Compliance, Memphis Area Minority Contractors Association, Moore Tech, Innovate Memphis, United Housing, BLDG Memphis, Green & Healthy Homes Initiative, Memphis-Shelby County Office of Sustainability & Resilience
Project Overview: This program focuses on addressing the needs of Memphis' energy-burdened residents, improving local government capacity to serve those residents, and enhancing the local workforce skill set and capability to improve housing stock and make energy efficiency repairs. These components will positively impact climate change mitigation and adaptation efforts, and provide a scalable model to expand throughout the Southeast.
---
Miami, Florida
Investment: $300,000
Project Title: Resilient Multi-family Housing Initiative
Partners: City of Miami, Enterprise Community Partners, Dream in Green, Communities United, South Florida Community Development Coalition, and Florida Housing Coalition
Project Overview: The City of Miami will work with partners to design, develop and disseminate a Disaster Ready and Operations Efficiency Toolkit for multi-family buildings. The Toolkit will include a portfolio assessment that gives owners a high-level view of the most and least resilient properties in their portfolio. Owners will be able to identify hazards and risks and pinpoint what should be included in emergency management plans. The Tookit will include a training program and tools for property managers to perform detailed Disaster Ready and Operations Efficiency Audits at the building level, as well as identify financing options for investing in resilient retrofits. The Resilient Multifamily Housing Initiative will also provide trainings and workshops for the residents of affordable multifamily housing on disaster preparedness and what they can do to reduce energy and water consumption.