SSDN Welcomes Virginia to our Network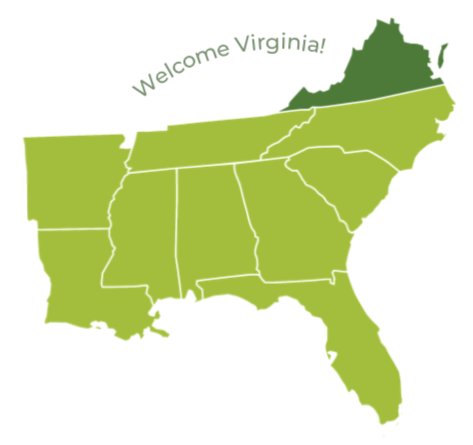 SSDN is pleased to share that it will begin working in the state of Virginia as of January 1, 2021, when SSDN merges with the Virginia Energy & Sustainability Peer Network (VESPN). VESPN has been the leading network of local government sustainability staff in Virginia, and was established in 2017 through the USDN Regional Partner Network program. SSDN and VESPN see many benefits from closer collaboration. Together, SSDN and VESPN believe that we can have more impact in driving the South's adoption of sustainable best practices and climate-forward policies. We look forward to a new year with expanded opportunity in our region.
Through this partnership, VESPN will remain the state network for local government sustainability staff in Virginia, but membership with SSDN is now open to Virginia city, county, and town sustainability professionals. Through support from and merger with SSDN, Virginia sustainability professionals can expect to see added capacity for network activities, strengthened relationships among practitioners across the South, broader peer sharing, and adoption of best practices.
For more information please contact Meg Jamison, meg@southeastsdn.org.