Dunedin, FL, Commits to 100% Renewables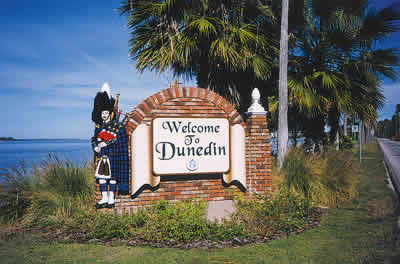 During the evening of December 6th, 2018, the Dunedin City Hall Commission Chambers were bustling with excitement. Coming before the Commission, was a Resolution for consideration of committing to 100 percent renewable energy. The Sierra Club initiated the Ready for 100 program, which is designed to promote cities to commit to 100 percent renewable energy. The Resolution, presented that evening proposed the City of Dunedin convert all municipal facilities to 100 percent renewables by the year 2035, and the rest of the City to clean energy by 2050. Many community members came before the Commission, sharing their thoughts, hopes, and eagerness regarding this commitment. The Commission adopted the Resolution to become the 101st City in the nation to commit to 100 percent clean energy. Additionally, 26 local businesses and organizations signed a letter of support for Dunedin's goal.
Dunedin is known for its world-class beaches — Honeymoon Island and Caladesi Island State Parks — and walkability. Being a coastal city, Dunedin is especially vulnerable to effects of climate change, including sea level rise and destructive storms. As recent studies such as the Fourth National Climate Assessment and International Panel on Climate Change report indicate, climate change is a major threat to communities — and a transition away from fossil fuels to renewables is imperative to avoid the worst effects of climate disruption. By committing to 100 percent renewable energy, Dunedin joins other Florida cities in taking climate action by moving toward a stronger, more resilient energy system for everyone.
"The City couldn't be more excited to take this next step in making the world a better place. We signed on to the Mayors for 100% Clean Energy and now we are taking our commitment to the next level. Our Commission and our Citizen Committee on Environmental Quality believes strongly in setting the example for our resident's future," said Dunedin Mayor Julie Ward Bujalski.
The City of Dunedin is one that is passionate and motivated, understanding the urgency of climate change and environmental degradation. Dunedin is at the forefront of the movement that is creating positive change and is a statewide model for environmental sustainability stewardship.
"Lately we've heard a lot about the risks and dangers posed by climate change. Today, Dunedin's leadership is telling a new story — one of optimism and opportunity. Communities who step up to build a clean energy future today will have a competitive economic edge tomorrow" said James Scott, Executive Committee Chair of the Sierra Club Suncoast Group.