Community partnerships power the City of Durham's successful energy efficiency and home repair program
On a hot and humid afternoon in the summer of 2019, a severe thunderstorm hit Durham, North Carolina.   Heavy winds lashed the area, felling large trees that blocked roads and damaged homes. The storm dropped vast amounts of rain that left many residential yards looking more like swamps than places for kids to play and neighbors to host barbecues. It was the type of storm that's becoming more typical as climate change leaves its mark on communities in the Southeast. 
Some communities are better equipped than others to recover from events like these. For people in vulnerable, underserved neighborhoods, rebuilding after severe storms is complicated by job schedules that don't allow time off for home repairs and monthly budgets that cannot cover unexpected costs. Even among lower income communities, there are differing needs. Some residents' income level makes them eligible for federal and state programs that cover the cost of repairs and rebuilding. Others are left hanging in the balance, still in a lower-income bracket, but making just over the threshold to qualify for free energy efficiency programs.
It was for this type of situation that left residents in limbo that the City of Durham developed the Partnership for Healthy Homes and Green Jobs in 2019. This program sought to arm underserved communities in the repeatedly-flooded Ellerbe Creek Watershed with the tools to strengthen resilience in the face of climate change. 
"We knew there was a need," said Energy and Sustainability Analyst Paul Cameron with the City of Durham General Services Department. "Our initial challenge was figuring out exactly what we could do that would have the greatest impact and address the issues that were most critical to vulnerable residents affected by extreme weather events like flooding and heat waves."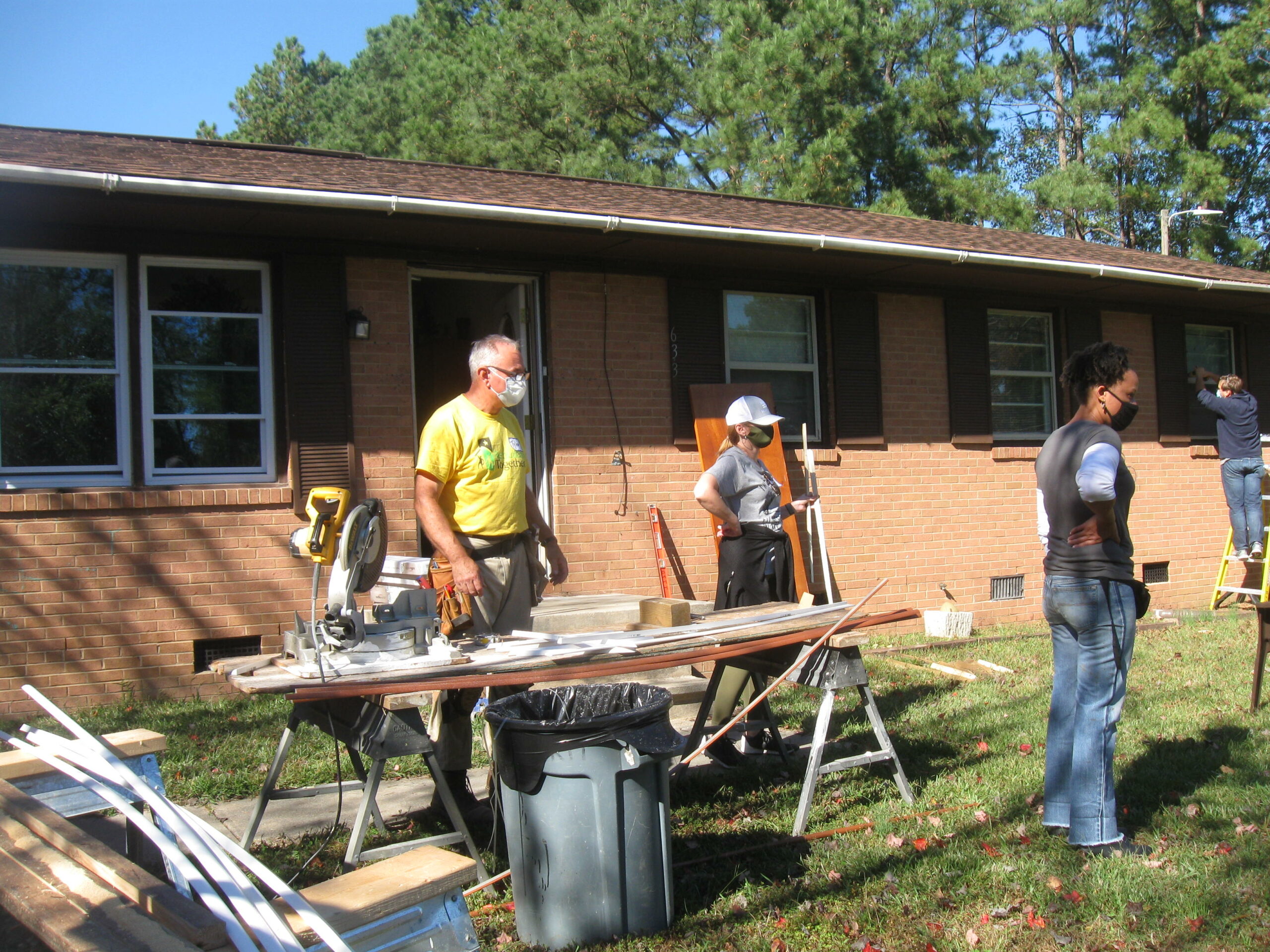 Finding the right community partners
The Durham County Soil and Water Conservation Department had completed several successful green infrastructure projects as part of their work with the Durham County Schools' Bionomic Educational Training Center (BETC). This program allows middle school and high school students to participate in projects to address the growing needs, demands, and technological developments in agri-science, green industries, and green infrastructure. Durham County Soil and Water and the BETC program were the first partners Paul brought in to collaborate on this project. 
The City of Durham also identified other important partners who had the expertise to perform the energy efficiency and stormwater management work needed in the community. Rebuilding Together of the Triangle had extensive experience with energy efficiency programs, and the Ellerbe Creek Watershed Association and NC Cooperative Extension Service had expertise with implementing green infrastructure.
These organizations teamed up and set about applying for a grant, highlighting each organization's unique contributions in most effectively addressing the resilience needs. The team's application was approved by the Southeast Sustainable Community Foundation (SSCF) in 2019. 
Getting to the heart of the need
Once off and running, the team's initial work centered around community outreach, identifying issues, and pairing them with the most impactful solutions. Grant partners engaged in site visits, talking with residents in the Ellerbe Creek Watershed, including those in two prominent neighborhoods, Bragtown and Merrick-Moore. As the partner organizations talked with residents, they became aware of another big issue outside of the obvious flooding and weatherization problems that needed to be addressed: they heard over and over from residents that basic repairs were needed to improve their home's safety, comfort, and energy efficiency.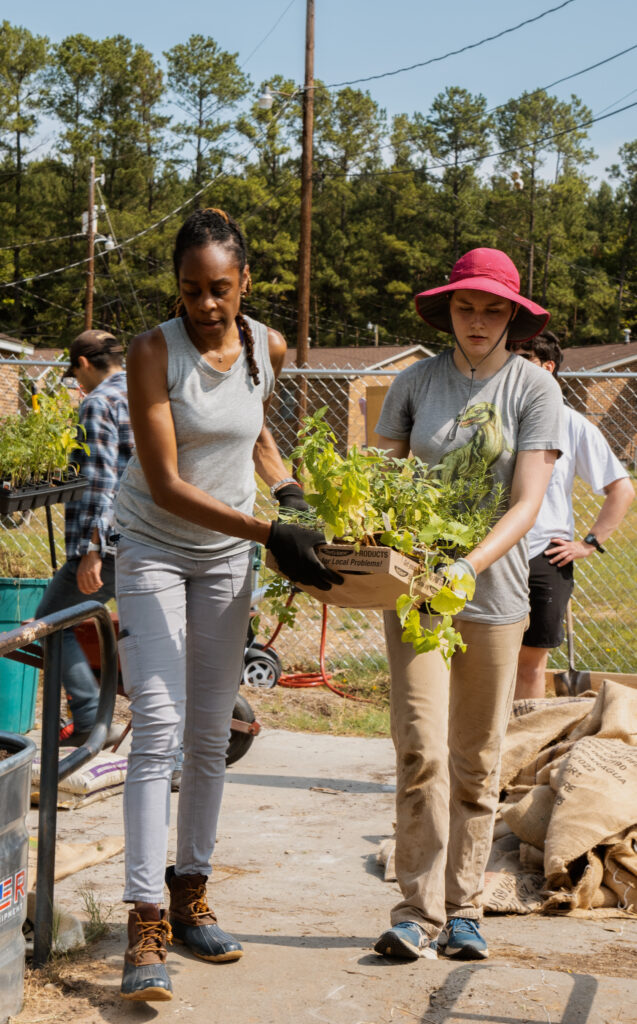 "Through direct contact with people in our community, we determined where we really needed to focus," said Dan Sargent, Executive Director of Rebuilding Together of the Triangle. "The partnerships with our community organizations, who already had a presence in these neighborhoods and had the attention and the trust of residents so that we could glean those insights, was critical to the success of the program. The direct input of residents that those relationships yielded equipped us to tackle the right problems with the right solutions."
"The need was definitely there," said Vannessa Mason Evans, chair of the Bragtown Community Association. "Most of our community members didn't have the resources to make basic repairs and manage stormwater on their property. People were already overwhelmed paying their mortgage or their rent, paying for groceries, utility bills, and prescription medicine. All of those financial demands translate to stress and more health issues, so to be able to help take the burden of repair costs off residents' shoulders, we knew we'd really be making an impact." 
As the project began in earnest, postcards were sent to eligible residents and project leaders spoke at community association meetings. And as the community leaders were engaged in further discussion on the project, they became integral members of the team. As the best-known and most trusted communicators, they became cheerleaders and advocates for the program. They were highly effective at educating residents about the benefits and securing people to participate. 
"This sort of project cannot succeed unless we are a trusted resource in the neighborhoods we're working in," said Robert Meehan, Water Management Specialist with the Ellerbe Creek Watershed Association. "Community and neighborhood leaders are the local experts, and we need to listen and have them drive the planning process. As we complete this phase of the project and consider how to expand it, the first step will always be to listen to our local community leaders."
As word spread, residents added their names to a growing list of interested participants. Site visits to evaluate individual home needs in each neighborhood were scheduled. Partner teams cataloged the essential repair and weatherization needs inside, while another group of evaluators reviewed stormwater control needs on the outside. 
After the visits, work plans were developed for each property, which were reviewed and approved by the residents. 
"This work is so important to communities like ours, especially now when there's such a push for growth across the state and in our region specifically," said Bonita Green, president of the Merrick-Moore Community Development Corporation. "There hasn't traditionally been a lot of emphasis on investing in maintaining and preserving low income communities, but there's a lot of focus on the new neighborhoods, so projects like this are critical to preserving our heritage and our homes. Many of the folks here are on fixed incomes and never would have been able to make these kinds of repairs and updates without this program. We're talking about human lives, and safe housing is a human right." 
All told, 28 homes were repaired and weatherized during 2020-21, and 47 stormwater control measures were installed at 33 homes in the two neighborhoods.
Teaching the next generation about resilience
Over the life of the program, since 2018, 11 teachers and 92 students affiliated with the BETC have participated, leaving lifelong impacts on students' and teachers' lives.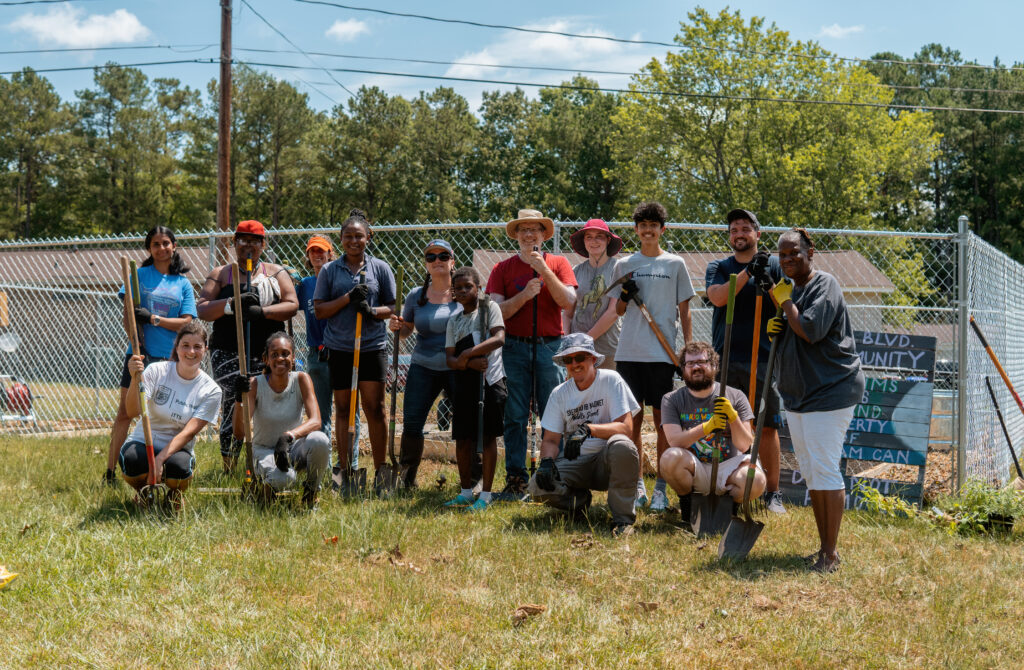 "Through participation in this program, students in the BETC program are given important exposure to potential career opportunities," said Rachel Owens, a teacher at Northern High School who helps coordinate the school's green jobs program. "They get to work with community members and folks with the Durham Soil and Water Conservation District. For many of our students, being part of these projects is their first opportunity to be part of an internship program, which is something they can put on their college and job applications."
"Because of our engagement with Soil and Water and the City of Durham," added Owens, "students have learned about topics they otherwise wouldn't have inside a classroom: how important it is to take care of the land and water around them, and how that influences flooding events, watersheds, and water quality. It's hands-on learning in real-time."
Owens said that the program has become so popular that many students have asked if they can participate a second time. As an alternative, the school developed an advanced course where students build their own rain gardens and continue their education on land and water issues. It's made such an impact on student lives, Owens said, that some interns have gone on to major in soil- and water-related subjects in college, and will hopefully bring that knowledge back to the communities where they grew up once they graduate.
Community garden project blossoms into educational cooking, resilience program 
As work continued on the weatherization and stormwater management program, another exciting project was coming together: the Durham Environmental Affairs Board was approached by the manager of a low-income community center whose initial need was to fund the planting of trees at the center. The timing of the outreach was right, and the project team decided to plant trees and install a community garden on the property. 
Since then, the community garden concept has gained momentum. Not only do residents enjoy the amenity, but community center leaders have recruited youth to work in the garden alongside staff, learning how to plant and grow vegetables, fruits, and herbs. Children are taking cooking classes at the center, making practical use of the garden resource, and learning new skills.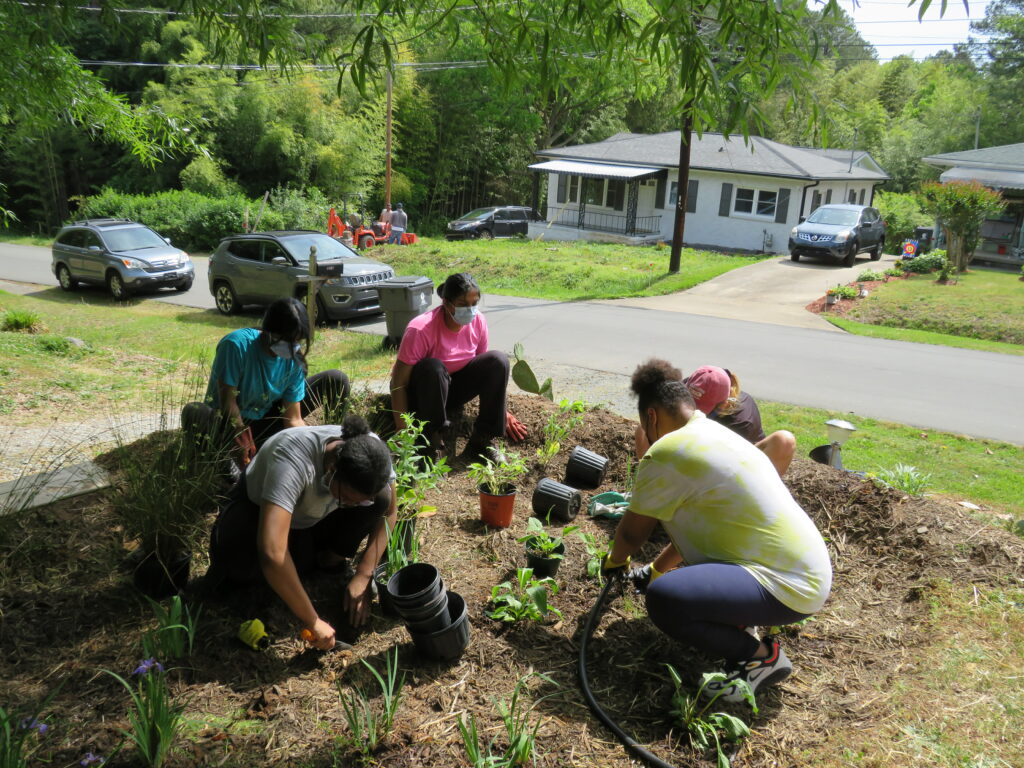 "The center really embraced the garden concept and they've maximized the opportunities for the community and its residents," said Cheralyn Berry, Extension Agent with the N.C. Cooperative Extension Service. "The children are learning how to get food from farm to table, taking part in planting, growing, harvesting, and cooking. The children are eating healthy food, and they're so invested in the project that they've expanded the garden for the children to have space to create their own planting beds. It's been really rewarding to watch this program literally bloom." 
The community center recently hosted two workdays to double the size of the garden, installing additional planting beds and fencing to keep the plants safe from rabbits, deer, and other animals. The Ellerbe Creek Watershed Association also recently installed a perennial flower bed adjacent to the garden. 
Taking stock and moving forward
The team of partner organizations, including the BETC program participants, achieved enormous outcomes through the projects. Everyone involved is hopeful that the energy efficiency and stormwater management work can continue by expanding into other neighborhoods in need. 
"We are hopeful this program will continue," said Vannessa Mason Evans, chair of the Bragtown Community Association. "People in our community are struggling to hold onto things that probably seem simple to others - basic things like having a safe place to live and raise our families. Having a safe home to watch our children and grandchildren grow up in is the kind of thing that gives a person self-worth, makes them feel a sense of pride in being able to provide for their loved ones. Without this program, we might lose the means to give more families that basic opportunity."
As the funding and timeline for the SSCF-funded project runs out, the City of Durham and its partners have been hard at work researching new funding sources and opportunities to continue the program. The North Carolina Sustainable Energy Association (NCSEA) is on board to help keep the progress going, and there's already a waiting list of 25 homeowners ready for their on-site evaluations and work plans. 
"For me, the work that's been done has helped preserve the community I was raised in," said Bonita Green, president of the Merrick-Moore Community Development Corporation. "The house where I live in Merrick-Moore is where I was born. My Dad built that home, and he and my Mom used to lead the community organization that I now champion. The people in this community have been here for generations. I'm personally invested in what happens here, and hope that the good work that's been started to preserve and protect the homes and the people of this community will be able to continue."
The grant from SSCF that enabled them to launch the original program has now set the City of Durham up for success in getting funding from other sources. The City can now demonstrate a network of strong community partnerships as part of a highly successful program that makes them attractive partners to prospective funders. 
"We're excited to see the impact of this project", said Cameron. "Seeing the difference this has made in the lives of residents and how appreciative they have been for the work that tangibly improved their quality of life has been so rewarding. It has been a true partnership."