Applying Equity to Our Work
SSDN members know inequities in our systems and policies limit positive outcomes and quality of life for all of us. Members are committed to establishing and advancing equitable communities for all, regardless of ethnicity, gender, sexual orientation, religion, ability, economic status or any other status. Additionally, members also know that race and ethnicity are the primary predictors of a person's outcomes across all social indicators and societal systems. Therefore, the network prioritizes racial and ethnic equity to dismantle the policies and systems that have created and sustained these inequities. When we achieve racial and ethnic equity, we believe that all people in the region will benefit.
Additionally, SSDN members recognize that those who contribute the least to climate change are those that are most vulnerable to the threats caused by a changing climate. Therefore, SSDN members have a unique responsibility in their roles to address climate equity, which involves addressing:
Responsibilities for greenhouse gas emissions contributions and generators;
Disproportionate distribution of climate change burdens and vulnerabilities; and
Just distribution of the benefits of climate protection efforts.
This requires climate strategies that deal with the systems that contribute to climate change, the conditions that perpetuate existing inequities, and the effects of climate change and their distribution. SSDN members believe that the actions local governments take to adapt to or mitigate climate change must provide benefits across the community, and at the very least not cause more harm to those in their communities who have been or will be most affected by climate change.
No matter where members are in their efforts, they are committed to challenging the ways in which racism, inequality, and privilege intersect with their work to address climate change.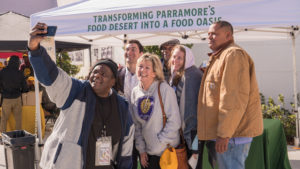 SSDN members understand that groups that have been marginalized by economic systems or racial biases are more likely to find themselves disproportionately affected by climate change, energy costs, and other environmental threats.
Read More